DOYB Technical Soutions, Inc – We want to raise awareness of a type of Phishing / Cyber Attack that is intensifying. SMS Phishing or Smishing (noun) is a phishing cybersecurity attack carried out over text messaging. This is the reason for all those additional texts from unknown numbers. Be on the lookout for these types of attacks. Always remember Slow Down, Call the Vendor or Individual Directly, and avoid clicking links from unknown numbers. We have included the FCCs recommendations for avoiding these attacks.
As we move into this new age of Cyber Security, we must continue focusing on all new areas that could compromise Client Data. We are helping clients protect their Business Data against these types of Attacks and others through a number of measures. We provide Cyber Security Solutions in Alpharetta, Atlanta, Johns Creek, Marietta, Roswell, Sandy Springs, Macon, and Nationwide. If you would like more information or to meet with one of our Cyber Experts Book a FREE 15 Minute Cyber Consult with us.
BOOK YOUR FREE CYBER CONSULT
FCC Notice and Recommednations
The FCC released an alert about increased malicious smishing (SMS phishing) attacks and reported subsequent fraud. Hackers attempt to trick users into opening links in text messages. Then they try to get users to enter sensitive information such as credentials or MFA codes into web pages designed for phishing.
Hackers use the credentials and other information submitted to them to steal account access, personal information, and money from the victims. Threat actors also sell access to these compromised accounts to other adversaries.
Individuals who simply visit the malicious links in the text messages will be targeted in subsequent attempts, and those who enter information can find their accounts compromised and money stolen.
The FCC recommends taking the following measures to defend against these kinds of attacks: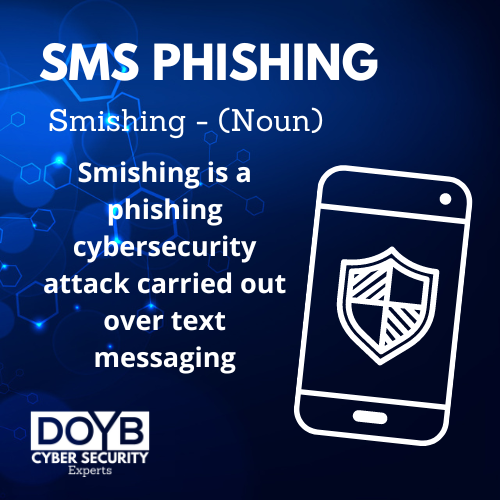 Do not respond to texts from unknown numbers or any others that appear suspicious.
Never share sensitive personal or financial information by text.
Lookout for misspellings or texts that originate from an email address.
Think twice before clicking any links in a text message.
If a friend sends you a text with a suspicious link that seems out of character, call them to ensure they weren't hacked.
If a business sends you a text you weren't expecting, look up their number online and call them back.
Remember that government agencies almost never initiate contact by phone or text.
Report texting scam attempts to your wireless service provider by forwarding unwanted texts to 7726 (or "SPAM").
File a complaint with the FCC.
https://www.fcc.gov/document/fcc-warns-consumers-rising-threat-scam-robotexts
https://www.kaspersky.com/resource-center/threats/what-is-smishing-and-how-to-defend-against-it
BOOK YOUR FREE CYBER CONSULT
Dedicated to your security,