Managed IT Services in Newnan, GA
Businesses nowadays have to deal with exponentially growing amounts of data and information. They need a way to handle this information quickly and efficiently. DOYB Technical Solutions offers managed IT services in Newnan, GA. Our custom-built IT network infrastructure can drastically improve workplace productivity and reduce redundancies in company workflow.
Contact us today to discuss managed IT solutions for your business!
IT Service Management and Cloud IT Services in Newnan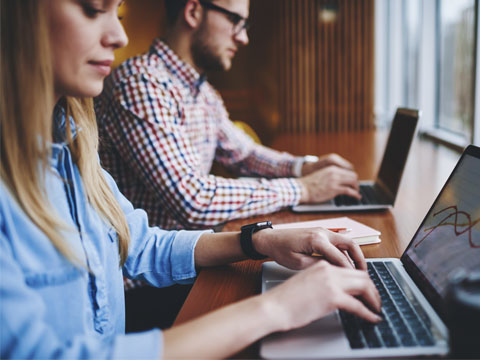 The typical small business handles more than 50 terabytes of data. Businesses need a comprehensive network to handle information creation, transfer, and storage. Our IT service management and cloud IT services range from simple remote monitoring to full-service cyber security risk assessments and planning.
Cloud IT services utilize advances in networking technology to create decentralized scalable networks. Since they are offsite, businesses won't have to worry about hosting cloud servers on-site at the workplace. Cloud IT infrastructure provides a scalable network that can grow and adapt to your business's changing needs.
As your managed IT service provider, we always go the extra mile to surpass our customers' expectations. We offer 24/7 support and monitoring so you always have a point of contact to troubleshoot issues and ask equations. Our cutting-edge technologies can ensure high system uptime and effective data protection and backup services.
The success of modern businesses depends on the quality of their IT network. Bad IT service can interrupt daily operations, negatively affecting productivity. Our managed IT service level agreement takes the stress out of managing your information network, so you can focus on business-critical tasks.
Managed IT Service Provider, VoIP Service Provider
No IT system is complete without VoIP service. Voice-over-Internet-Protocol (VoIP) provides comprehensive voice communications using high-speed internet rather than traditional phone lines.
Our VoIP service offering includes a wide range of several key tools for the workplace, including:
Voice calls
Chat messaging
Voice mail
Conference calls
Video conferencing
Call holding
Call forwarding
And more
VoIP service providers carry several benefits over traditional phone systems. VoIP systems work using your existing internet connection, so they do not require a separate installation of physical phone lines. Additionally, VoIP systems have relatively low hardware and installation costs.
Newnan, GA, is nestled about 40 miles from Atlanta in Coweta County. Newnan is a part of Metro Atlanta, a part of the Atlanta-Sandy Springs-Alpharetta, GA metropolitan statistical area. The city is known for its antebellum architecture and African-American heritage and museums. Due to it's proximity to Atlanta, it is a popular place for both residents and businesses alike.
Contact DOYB Technical Solutions today to discuss managed IT services in Newnan, GA!