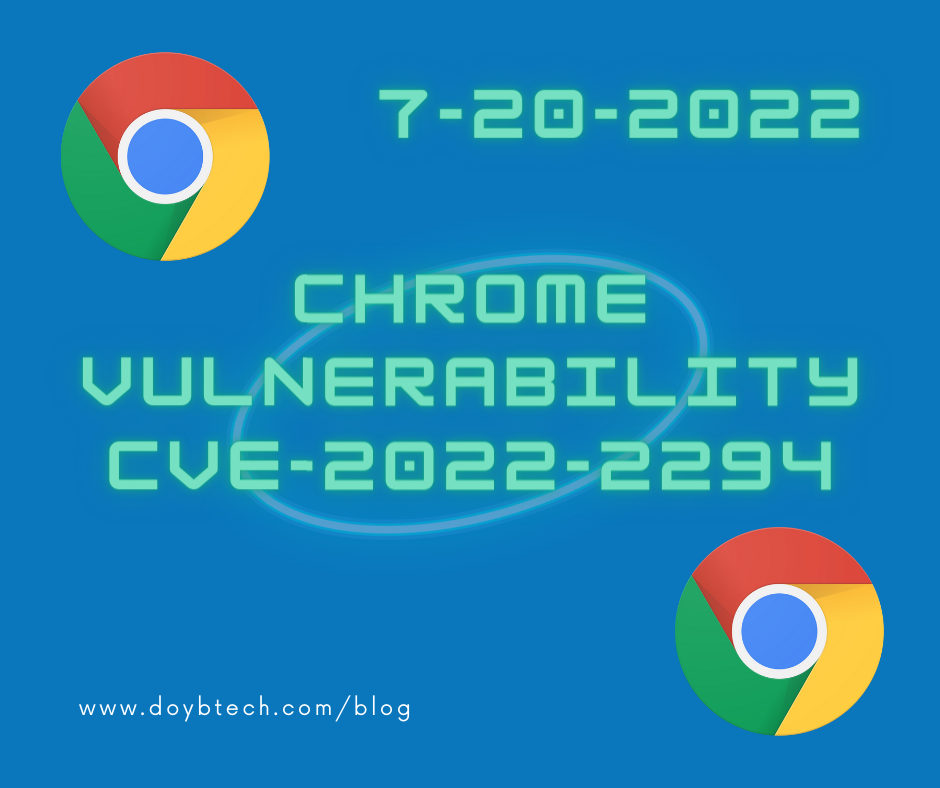 Google has released another major zero-day for chrome CVE-2022-2294. The fourth major patch for 2022. The vulnerability sits with versions below Version 103.0.5060.134. It's important to note that these vulnerabilities are usually resolved with an update. However, your chrome browser doesn't always update automatically. Sometimes you need to invoke a manual push for an update. DOYB Technical clients are scheduled every 2-4 hours to push an update request for Google Chrome automatically, all to help reduce RISK and protect their environments.
It's important to have multiple layers of security in place to help keep you protected even when other applications you may use experience vulnerabilities. At DOYB Technical we continually assess the best multilayer strategy to reduce your risk. Know your RISK! Reach out to us today for a Cyber Security Consult. We offer Cyber Solutions in Alpharetta, Atlanta, Johns Creek, Marietta, Roswell, Sandy Springs, GA, and the Surrounding Areas.
Check your Google Chrome Version / Manual Update

1. Open Google Chrome
2. Click the three dots in the right-hand corner
3. Click Settings from the Dropdown
4. Click About Chrome in the bottom lefthand corner
5. Once you click About it will automatically check for updates
6. Check the version it should be 103.0.5060.134 or above
Why you need a Cyber Security Risk Assessment (CSRA)
How can you plan and protect YOUR business if you don't know what YOUR RISK is? Contact us today for a free Cyber Consult to discuss a Cyber Security Risk Assessment for your business. Our clients receive ongoing Cyber Security Risk Assessments to continuously monitor risk and help our clients continue to mitigate where possible and plan elsewhere. Schedule your Consult for businesses in Alpharetta, Atlanta, Johns Creek, Marietta, Roswell, Sandy Springs, Macon, and Surrounding Areas. Know your RISK!
BOOK NOW
Gatlan, Sergiu. "Google Patches New Chrome Zero-Day Flaw Exploited in Attacks." BleepingComputer, www.bleepingcomputer.com, 4 July 2022, https://www.bleepingcomputer.com/news/security/google-patches-new-chrome-zero-day-flaw-exploited-in-attacks/.