Cyber Insurance denials are becoming all too common after the massive payouts Insurance companies have made over the past few years. The Cyber Insurance market was worth around $7.8 Billion in 2020 and is estimated to be worth $20 Billion by 2025 according to Security.org (Vigderman and Turner). We will continue to see denials even though you may think your business is covered in the event of a breach. Has your IT Provider or Managed Service Provider asked for a copy of your Cyber Insurance Policy? Do they have an experienced team that understands how to read these Cyber Policies?
At DOYB Technical, services start with a Cyber Security Risk Assessment (CSRA) which includes an in-depth review of your technology environment, business operations, and cyber policies. Contact the experienced team at DOYB Technical Solutions for your Cyber Consult, services in Alpharetta, Atlanta, Johns Creek, Marietta, Roswell, Sandy Springs, Macon, and Surrounding Areas.
Cyber Insurance Denial for Application Discrepancies
According to an InsuranceJournal.com article and a July 6 filing in U.S. District Court for the Central District of Illinois, Travelers Insurance is attempting to rescind a Cyber Policy based on the original cyber policy application of International Control Services (ICS). The company acknowledged the use of MFA in its environment for administrative access. However, during the investigation of a ransomware attack, it's alleged that the company only implemented MFA on its Firewall and not on its Servers.
This technicality could have high costs for ICS. This move by Travelers is even more important as the original application is at play. Now it's all the more important to ensure you are working with a trusted IT vendor, checking with multiple resources, and verifying the answers when filling out these insurance applications. This example is just one of many over the past few years of Insurance companies avoiding the high costs of Cyber-Attacks. Many more of these types of denials are coming in the future. Is your Business Protected, Prepared? Did you verify your application answers? Are they still true today? Would your claim be denied in the event of a Cyber Attack?
Why you need a Cyber Security Risk Assessment (CSRA)
Given the latest example of a coverage denial, it shows why it's imperative you know your Business's Risk and know you are working with Experts that know Your Risk and Your policy details. During a risk assessment, we are looking at your Business in its entirety. It's not just about your technology anymore. During a Cyber Security Risk Assessment (CSRA), we are evaluating, measuring, and completing the following & More;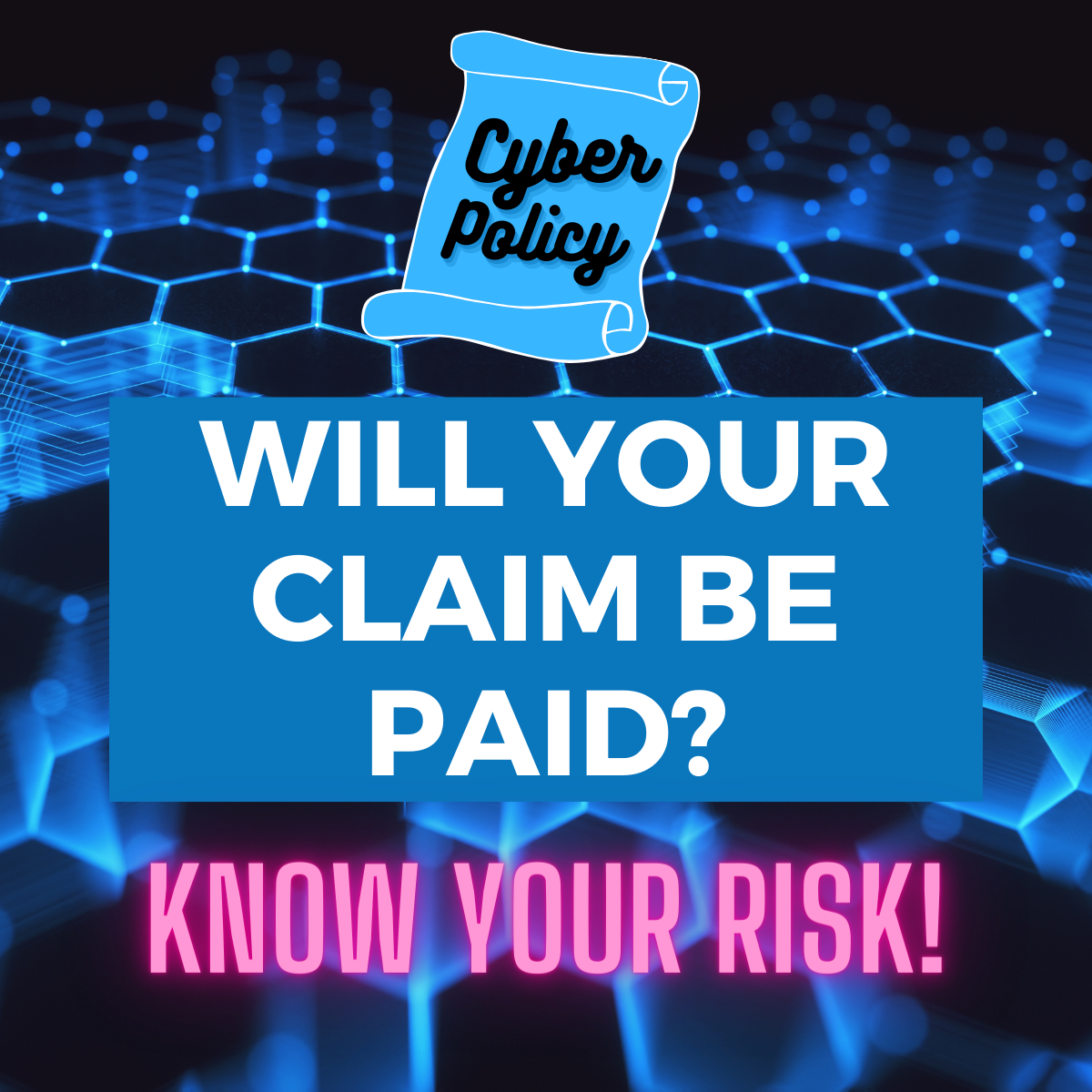 Cyber Insurance Policy & Application Review
Business Operations
Business Procedures & Internal Policies
Employee Education
Employee Testing/Engagement
Penetration Testing
Technology Assessment
Cloud (SaaS) Assessment
Dark Web Assessment
Network Assessment
& More
How can you plan and protect YOUR business if you don't know what YOUR RISK is? Contact us today for a free Cyber Consult to discuss a Cyber Security Risk Assessment for your business. Our clients receive ongoing Cyber Security Risk Assessments to continuously monitor risk and help our clients continue to mitigate where possible and plan elsewhere. Schedule your Consult for businesses in Alpharetta, Atlanta, Johns Creek, Marietta, Roswell, Sandy Springs, Macon, and Surrounding Areas. Know your RISK!
BOOK NOW
Vigderman, Aliza, and Gabe Turner. "Cyber Insurance Statistics and Data for 2022." Security.Org, www.security.org, 16 Mar. 2022, https://www.security.org/insurance/cyber/statistics/.
Hemenway, Chad. "Travelers Wants Out of Contract With Insured That Allegedly Misrepresented MFA Use." Insurance Journal, www.insurancejournal.com, 12 July 2022, https://www.insurancejournal.com/news/national/2022/07/12/675516.htm?fbclid=IwAR2UITLYBltHsXDjCS2Q0P7_Oza7gA2W4sNxq9VYLNRS4Hsbr3OjEImSWTQ.
Travelers Property Casualty Co. of America v. International Control Services Inc., No. 22-cv-2145